SCREENSHOTS of the 2 Pages and their source codes in Netscape, which as we all know is unalterable, unlike the source code viewed in IE, are below. If anyone should care to compare the links on the site in question with the links on my site please take note of the links that are not on my site but on the other. Be sure to click on the said link as most of the ones I checked today were links I had removed from my site prior to my update of yesterday afternoon (Thurday 8/17/00). I had taken several days to visit all 1000+ paintshops on my site and came up with 157 bad links which were subsequently removed by me this week and the updated page uploaded yesterday afternoon. Of all the links I clicked on today (Friday 8/18/00) that are not on my site now, all but one came up to a "Not Found" or "Shop Closed" site. Those are the links that had been removed by me this past week for those reasons.

You will see the EXACT same names for all the links, the same wierd alphabetical way I use with names hard to put in order (with numbers and such), amazing similarity of the way the links to the different link pages are made, even see target="_top" in the HTML that I use since my page is in frames although the pages in question are not in frames.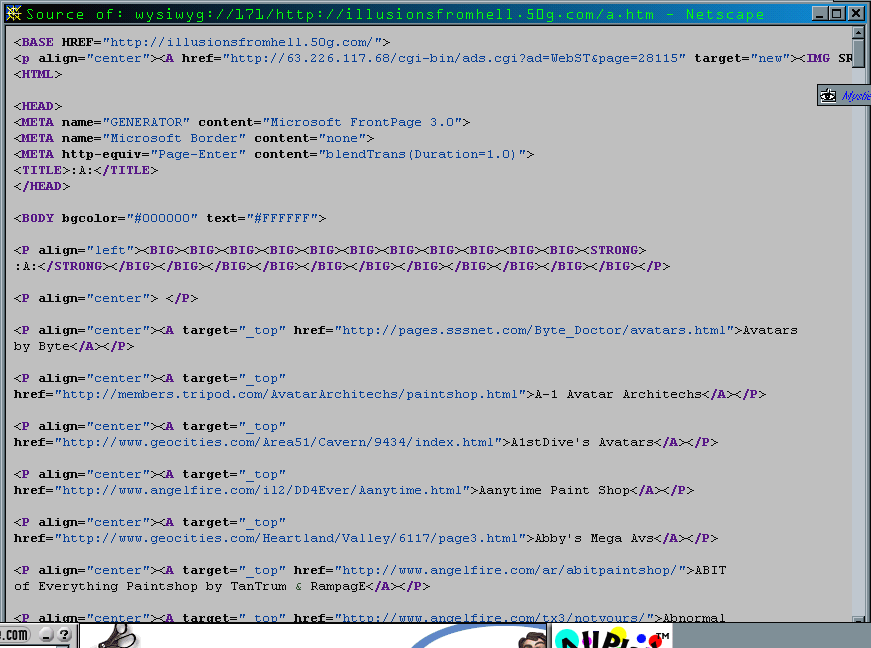 [ make note of how Visionary's links all point to the same URL except for one that doesn't use "www." and compare both link sites now ]




Please return to the Main Page and send me your comments, Pro or Con. I'm very interested in your opinion. Thanks, Ing.